"Your example of service...shows that each of us can make a difference for those around us."
First Lady of the United States Michelle Obama
Nine months to day after 9/11 and nine months to day before initiation of the Iraq War, I was waiting to cross the street at a busy Manhattan intersection near my apartment. I had stayed up late the night before putting the finishing touches on a press kit for a booking agent. And I really wanted this press kit in this agent's hands as soon as possible, so I felt bringing it to him personally would be much more effective than waiting on the mail.
It seemed to be a day just like any other.
I had been a regular fixture on the New York City music scene and was watching my success skyrocket. I felt on top of my game.
I could never have fathomed this morning was the end of my "simple life / singing for a living, with a cozy little place in the city."
In the blink of an eye, my life changed
drastically and permanently.
I was struck by an impaired driver in a Ford Explorer. I lost my entire right leg.
As a songwriter and singer, I had always known the power of words, especially when put to music. But I had no idea the intense healing ability of music and lyrics until I used it for my own.
Seeing the power of my songwriting and singing in my own healing, I wanted to give this gift to others.
Within several months of my accident, I began volunteering with new trauma patients at Bellevue Hospital where I had been a patient, becoming the first appointed volunteer to be a peer visitor in conjunction with the hospital's Psychiatric, Social Work, Art Therapy, and Trauma/SICU Departments. (References available upon request.)

"Theresa is an inspiration for a generation of people, myself included. The mettle of an individual cannot be judged when things are going well, only when things are not. She is way above the curve."
Dr. H. Leon Pachter, Chief of Surgery at NYU School of Medicine/ Former Trauma Chief at Bellevue Hospital Center
Seeing such profound transformation — both physically and emotionally — I wanted to continue using my talents in this new inspiring way.
MILITARY PERFORMANCES
"You have my utmost gratitude for the dedicated and exemplary work you do for our brave Service members."
--General Martin E. Dempsey, Chairman of the U.S. Joint Chiefs of Staff
The timing of my accident really affected me. As I watched the news and saw our troops coming home with injuries, I felt a pull deep down inside of me to visit The Walter Reed Army Hospital in Washington, D.C.
It took four years for me — a civilian — to get the appropriate clearance to visit.
That visit was the most profound experience of my life. As soon as I returned home, I wrote "Through aSoldier's Eyes," which became an anthem for our troops.
Since that initial visit, I have had the incredible fortune to be a regular guest and performer at Walter Reed and other military conventions, fundraisers, and bases (including Forts Bragg, Lee, Eustis, Monmouth, Hamilton, Gordon, The Fighting 69th, and MacDill Air Force Base), and at various VA hospitals up and down the Eastern Seaboard (including Tennessee Valley Healthcare System, The Brooklyn Campus of the VA New York Harbor Healthcare System, and James A. Haley VA in Tampa, FL). 
I very proudly made history as the first civilian to sing the National Anthem at Walter Reed Army Hospital for their 100th Anniversary Celebration on May 1, 2009 and was honored by the hospital's Chaplain's Department for my devoted work with the wounded troops who recover there.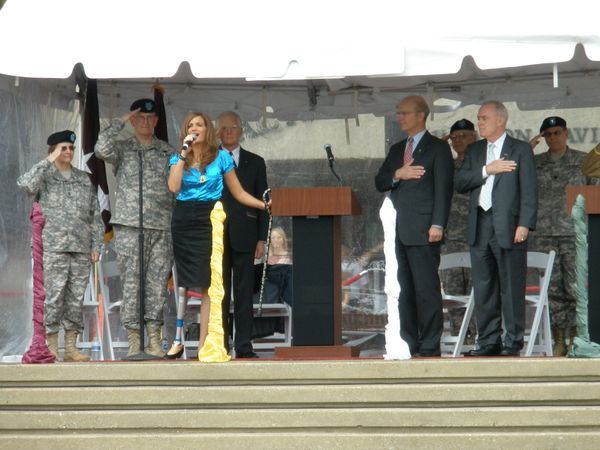 I was personally invited by General (Ret.) Carter Ham, Former Commanding General of U.S. Army Europe, to visit troops recovering from Iraq and Afghanistan at the Landstuhl Regional Medical Center near Ramstein AFB in Germany as well as at the U.S. Army Warrior Transition Units throughout Europe.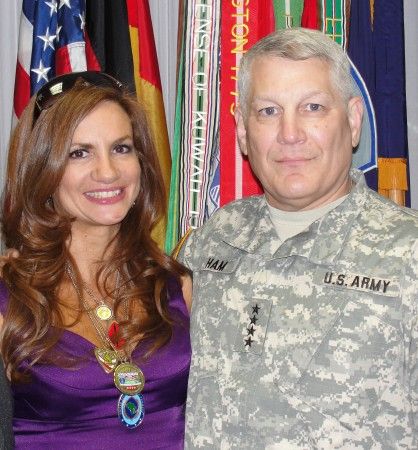 PUBLIC SPEAKING
"A beautiful and courageous woman…a true role model."
U.S. Secretary of State Hillary Clinton
As the result of my performing for the military and people learning my personal story of survival, I soon became an in-demand public speaker.  
I have had the distinct privilege to appear alongside Secretary of State Hillary Clinton in a healthcare discussion and with top military leaders at conventions and benefits for wounded troops countrywide.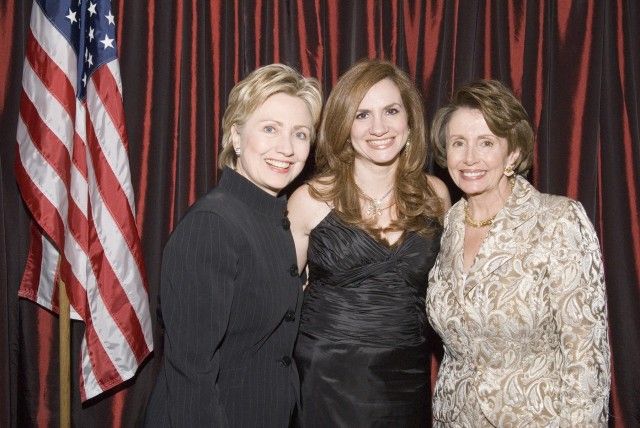 I have also been invited to speak at medical symposiums for leading trauma hospitals, at prisons as a crime victim survivor, at English Language Schools on using art, poetry, and music as communication tools, at elementary, middle, and high schools on bullying, and at various Fortune 500 companies on topics such as taking responsibility for your actions, understanding disability, and navigating work environment stress.

No matter who is in front of me, I want them to understand that we may look different and have different approaches, but essentially, we are all the same and have the same deep emotional needs.
My goal is for attendees to walk away feeling inspired, connected, and comforted. To walk away feeling gratitude. To walk away with sharpened and even new coping and survival tools.
SINGING & SONGWRITING
I want everyone who hears me to feel a sense of connection within themselves and to others. And I believe music and its lyrics is the most profound way to bring about that connection. We can all attest to the way particular songs and types of music stir up memories and emotions.
I use my music in hopes of inspiring humanitarianism, healing, and communion.
I collaborated with the legendary Blood, Sweat & Tears, singing background on their 9/11 tribute "The Lights of Broadway"and performing with them in concert.
My song "Love Inside of You" was aired on Seton Hall University's radio station in dedication to the students and families involved in the fire at Seton's Boland Hall. (This song is on my album Embrace.)
I organized and headlined a 9/11 benefit concert for firehouse Engine 16, Ladder 7's World Trade Center Fund, and I regularly make appearances at various benefits for New York City's Police and Fire Departments.
I co-wrote the song "I Want to Feel It All" with Craig Butler for the Cooley's Anemia Foundation to help find a cure for the blood disease Thalassemia.
I conduct songwriting workshops at NYU's Hospital for Joint Disease's Initiative for Women with Disabilities' Young Women's Program, which empowers and enables young women to thrive, be healthy, and achieve their goals in a creative, safe, and communal environment. The center is the first of its kind in Manhattan and the five boroughs.
I am honored to have had the privilege to serve others with my art, and I hope to do the same with you.
*A huge thank you to Thaddeus Hardin for the background image.