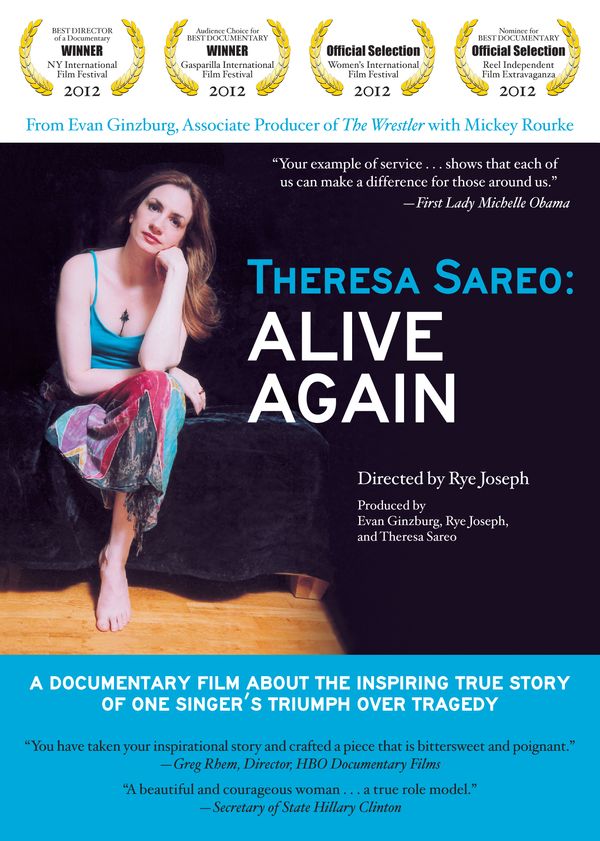 Theresa Sareo: Alive Again — The critically acclaimed, inspirational true story of New York City singer/songwriter Theresa Sareo — whose life was forever changed when she lost her entire right leg in a tragic accident on the corner of Manhattan's Park Avenue and 34th Street. 
"You have taken your inspirational story and crafted a piece that is bittersweet and poignant."
Greg Rhem, Director, HBO Documentary Film
"You are an inspiration to all."
David Yates, Co-Producer Dolphin's Tale"
Theresa…my new hero!"
Jonathan Demme, Hollywood Movie Director 
"She is the 'Mother Theresa' of the U.S. Military."   
Sgt. Maj. (Ret) Antonio Reyes
This moving, award-winning documentary gives an up-close and personal look into her challenging physical and emotional rehabilitation, courageous return to her music career, and unexpected path to support trauma victims and wounded military around the world.
Funny, poignant and musically electrifying, first-time director Rye Joseph captures Theresa's determination to survive, give service to others, and keep her musical dreams alive.
Produced by Theresa Sareo, Rye Joseph, and Evan Ginzburg (associate producer of The Wrestler with Mickey Rourke).
Alive Again won the 2012 Gasparilla International Film Festival's Audience Choice for Best Documentary, the 2012 NY International Film Festival's Best Director of a Documentary, and was nominated for the 2012 Reel Independent Film Extravaganza's Best Documentary and the Women's International Film Festival.